IN AN EMERGENCY
PHONE 999 for POLICE or AMBULANCE
Or your local Social Services Department / local safeguarding board using these contact numbers
Interdenominational Safeguarding Panel
You can contact the Office for help or advice about safeguarding and protecting children and vulnerable adults by telephoning 01745 817584 /07957510346 or email This email address is being protected from spambots. You need JavaScript enabled to view it. This is not a 24 hour or emergency service.
The This email address is being protected from spambots. You need JavaScript enabled to view it.is the safeguarding officer for the Union of Welsh Independents, Baptist Union of Wales and Presbyterian Church of Wales and should be contacted and informed regarding concerns and safeguarding incidents within the 3 denominations.
THIS SIMPLE FLOW CHART OUTLINES THE MAIN STEPS YOU SHOULD TAKE IF YOU ARE CONCERNED ABOUT AN INDIVIDUAL OR SITUATION.
Scroll down for many more links and sources of support
You can contact the:
Presbyterian Church of Wales - Rev Brian Huw Jones 01745 853469 This email address is being protected from spambots. You need JavaScript enabled to view it.
Baptist Union of Wales - Rev Judith Morris 01267 245660 This email address is being protected from spambots. You need JavaScript enabled to view it.
Welsh Independents - Rev Dyfrig Rees 01792 795888 This email address is being protected from spambots. You need JavaScript enabled to view it.
Help and Support 24/7
Childline 0800 1111 link to the website Childline
NSPCC Helpline 0808 800 5000 link to website NSPCC helplines
Welsh Local authority child protection numbers here
HOURGLASS 0808 8088141 ( not 24/7) (the new name for Action For Elder Abuse)
THIRTY ONE EIGHT (the new name for Churches Child Protection Advisory Service) 0845 1204550 https://thirtyoneeight.org/about-us/
SAMARITANS: https://www.samaritans.org/how-we-can-help/contact-samaritan/
Free helpline 24/7 : 116123 Llinell Cymraeg: 08081640123 (7pm tan 11pm )
Help & Support for Survivors and those who have suffered abuse
Replenished Life
is a multi faith and inclusive support charity based in Wales offering support and inormation relating to abuse and trauma within faith inlcuding a support line for those who have experienced abuse and trauma in a religious context
https://www.replenished.life/supportline
MACSAS - Ministry and Clergy Sexual Abuse Survivors supports those who have been sexually abused as children or adults, by ministers, clergy or others under the guise of the Church. They support those who have remained whin their christian communiites or have left it. Freephone Helpline 08088 01 03 40 (Wednesday 7-9.30 or Saturdays 9-11am) www.macsas.org.uk/
THE SURVIVORS TRUST The Survivors Trust (TST) is a UK-wide national umbrella agency for 130 specialist organisations for support for the impact of rape, sexual violence and childhood sexual abuse throughout the UK and Ireland. http://thesurvivorstrust.org
NAPAC (National Association for People abused in Childhood)
Offers support to adult survivors of all types of childhood abuse, including physical, sexual, emotional abuse or neglect.
Support line, free from landlines and mobiles 0808 801 0331 (Mon-Thu10am-9pm & Fri 10am-6pm) calls will not show on your bill https://napac.org.uk/what-napac-does/
Stepping Stones is a registered charity providing therapeutic services to adults who have been sexually abused as children across North Wales https://steppingstonesnorthwales.co.uk/
Domestic Abuse and Sexual Violence
Find your local service : Welsh Women's Aid (welshwomensaid.org.uk)
Live Fear Free Helpline - info about the service and video
LIVE CHAT 9am - 9pm 24 hour advice and support: 0808 80 10 800 https://gov.wales/live-fear-free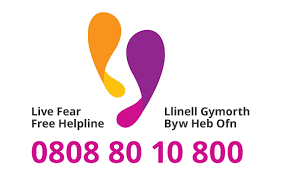 Clare's Law, also known as the Domestic Violence Disclosure Scheme (DVDS) is a police policy giving people the right to know if their current or ex-partner has any previous history of violence or abuse.
New Pathways Rape Crisis and Sexual Abuse Support Services in South Wales http://www.newpathways.org.uk/
Rape & Sexual Abuse Support Centre North Wales www.rasawales.org.uk/ offering support to anyone in North Wales who has experienced Sexual Abuse or violence Office: for referrals: 01248 670 628 | live fear free Helpline: 0808 80 10 800 Email: This email address is being protected from spambots. You need JavaScript enabled to view it.
Stepping Stones is a registered charity providing therapeutic services across North Wales to adults who have been sexually abused as children.https://steppingstonesnorthwales.co.uk/
UK 24-hour National Domestic Abuse Helpline 0808 2000 247 https://www.nationaldahelpline.org.uk/
Bullying
Bullying is 'Behaviour by an individual or group, repeated over time, which is meant to hurt someone physically or emotionally.'
It is a serious and devastating problem for those it affects. Despite work by schools and other services, as well as local, Welsh and UK government initiatives, bullying remains a desperately worrying problem for many. Online spaces and social media continue to provide new tools and opportunities to bully others.
The Welsh Government has developed statutory guidance for schools and has also developed useful information packs for parents and carers. Click the link to access the toolkit accompanying the guidance for more information and guidance.
The young persons guide is available here and the parents and carers toolkit is available here
KIDSCAPE-is a charity that provides practical support, training, and advice to challenge bullying and protect young lives.
They offer advice and a helpline for families facing a bullying situation https://www.kidscape.org.uk/advice/
CONTACT:
Police 999 Ambulance 999 Or your local Social Services Department (you can find your local council website through this link)