Welcome to the Interdenominational Safeguarding Panel Website
The Interdenominational Protection Panel was established in 2001 and we changed our name to Interdenominational Safeguarding Panel in 2022. The Panel is a not for profit company limited by guarantee since 2009 and directors are from the Union of Welsh Independents, Baptist Union of Wales and Presbyterian Church of Wales - "the three denominations".
The role of the Panel is to support and advise the three denominations in relation to safeguarding practice in their work with children and young people and vulnerable adults. The Panel Safeguarding Officer operates as the the Safeguarding Officer for the three denominations noted above.
As a registered body with the Disclosure and Barring Service (DBS) the Panel is responsible for processing DBS checks for employees and volunteers within the three denominations. In 2008 it expanded to become an 'umbrella body' enabling it to provide disclosure checks for organisationsand agencies who are not members of the three denominations.
CLICK TO SEARCH THIS WEBSITE
HOW ARE YOU DOING?
More specifically how is your church doing in regard to safeguarding vulnerable groups? Have you seen the new safer church -self assessment checklist?
This is just one of new resources we have to share with you as part of the Safeguarding Vulnerable Groups Handbook updates.
The checklist is Appendix 10 in Section 6 but you can also find your safeguarding policy statement, some important information for trustees and a new code of conduct for volunteers.
All churches should have received a paper copy of the updates by now. Get in touch if you havent had yours!
Go to the Safeguarding Handbook page for more information
Poster a new leaflet
We are pleased to share our new poster A4 here and also an info sheet ( A6 - postcard size) giving details of how to respond to a concern
You can get copies from the office or down load a copy following the links above.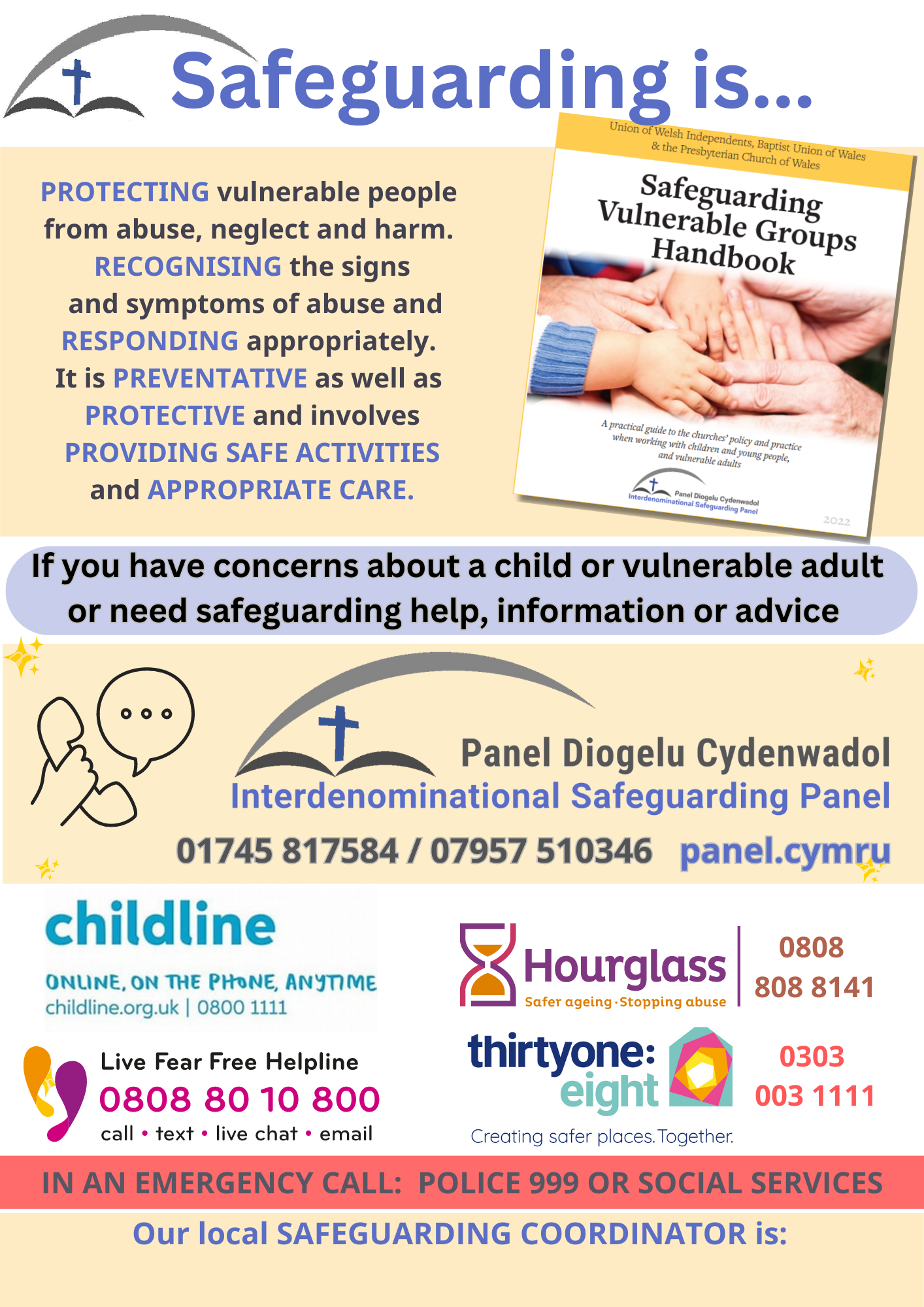 IMPORTANT NOTE REGARDING EMAILS:
Please make sure you use the correct email address (@panel.cymru)
We changed from paneldiogelwch.org.uk over a year ago and by now these messages are not being consistently forwarded and the sender may not receive a notification of this.